Service Desk
Upgrade your PSA's ticketing portal to pre-triage tickets, reduce touches, add checklists, handle simple quotes, and even prevent some tickets entirely!
Web, Desktop, and Teams Access
Make your service desk accessible from everywhere with separate service catalogs for problems and services, custom forms, automation, AI, CSAT, chat, and more with CloudRadial's integrated solution to service desk efficiency.
Ticket Automation
Speed resolution by linking questions and forms to backend automation capabilities including webhooks, Power Automate, or RPAs such as Rewst or PIA. Or, use form questions to trigger PSA workflows.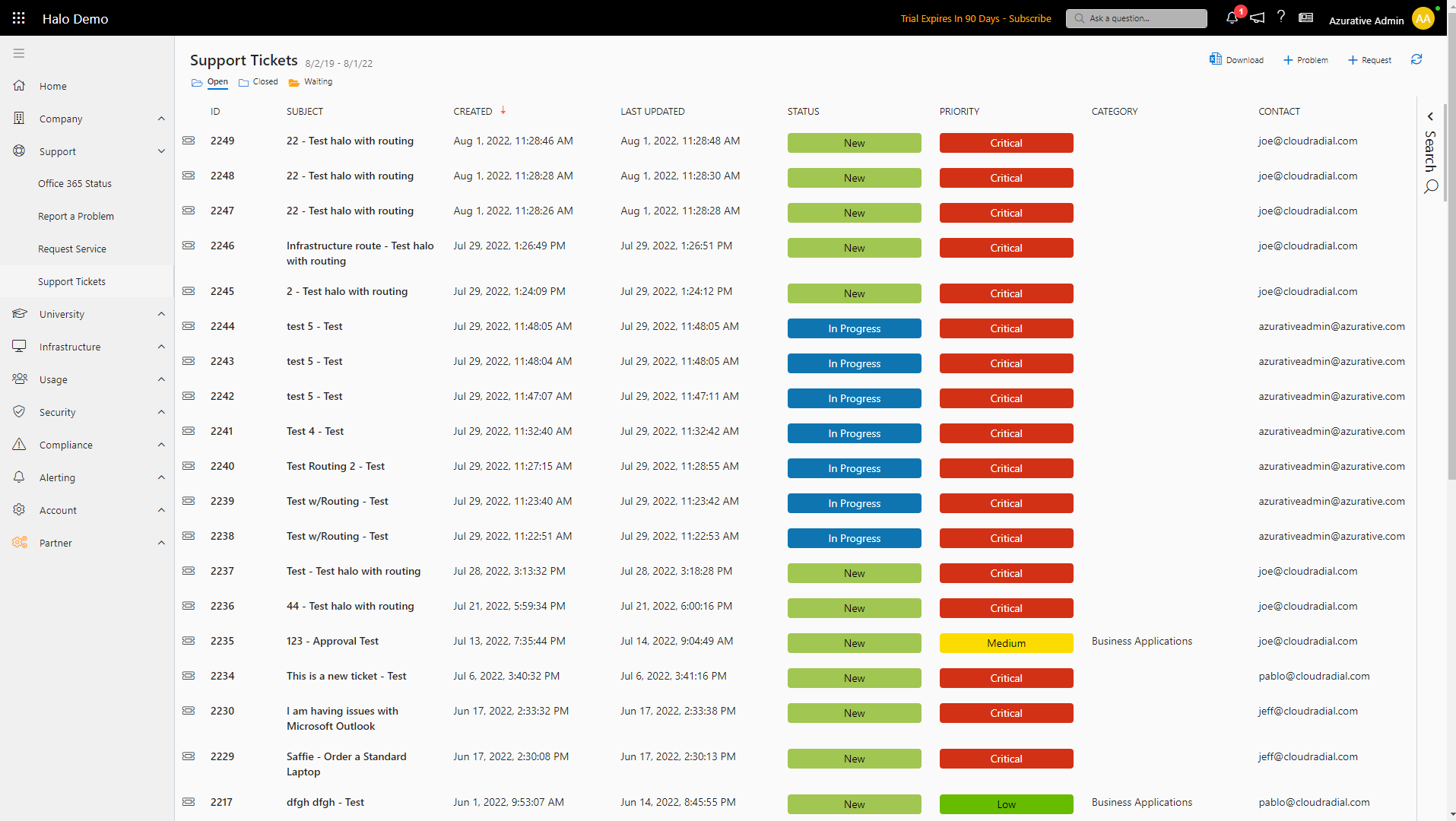 Service Catalog
Showcase all you can do for clients by offering a complete service catalog. Handle change requests separately to show clients you offer more than just fixing problems.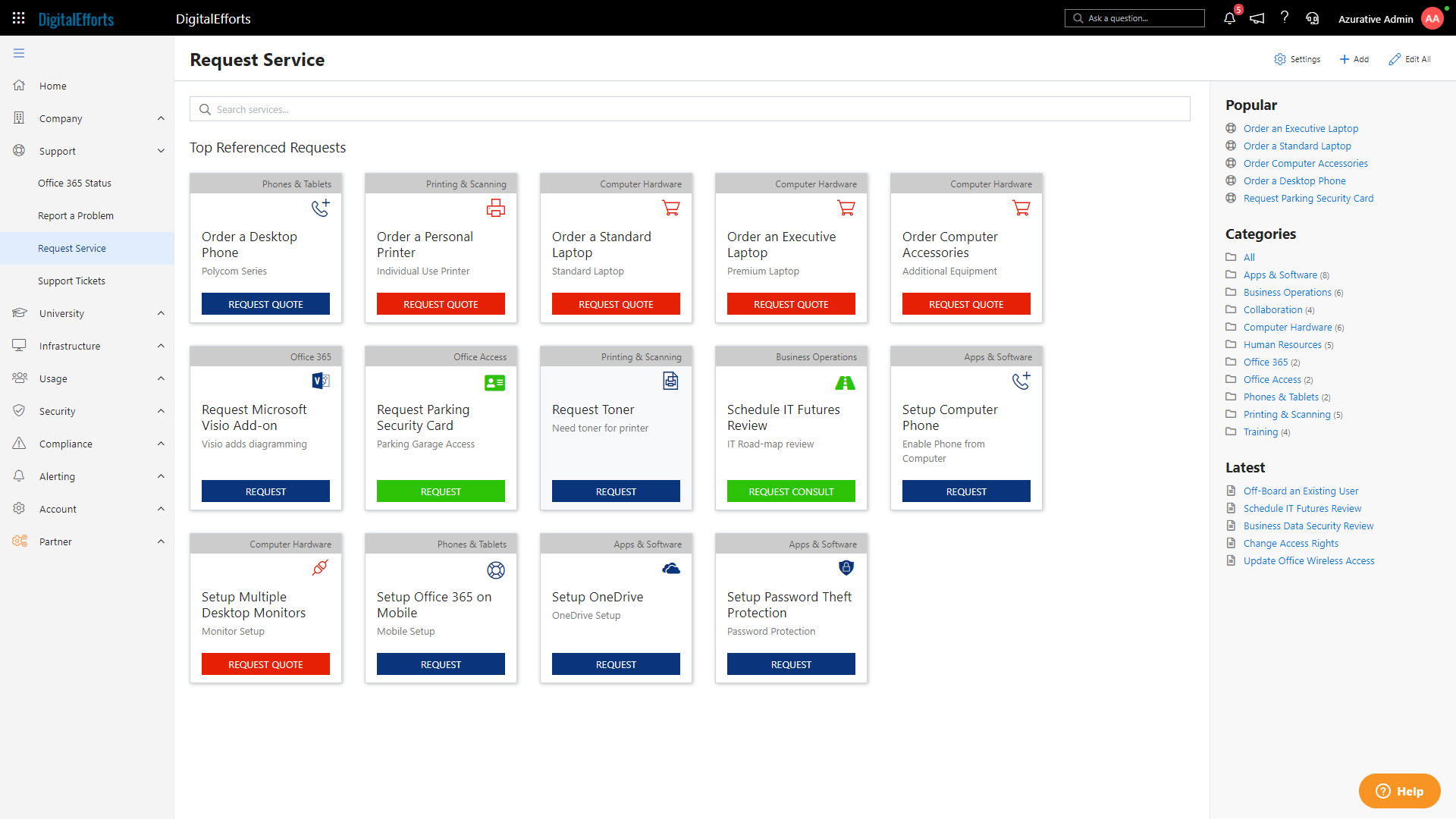 Customized Questions
Customized questions reduce the back-and-forth with client interactions and shave unnecessary time and labor out of problem requests, onboarding, and new service requests. Showcase HTML content, require responses, and even ask for a signature.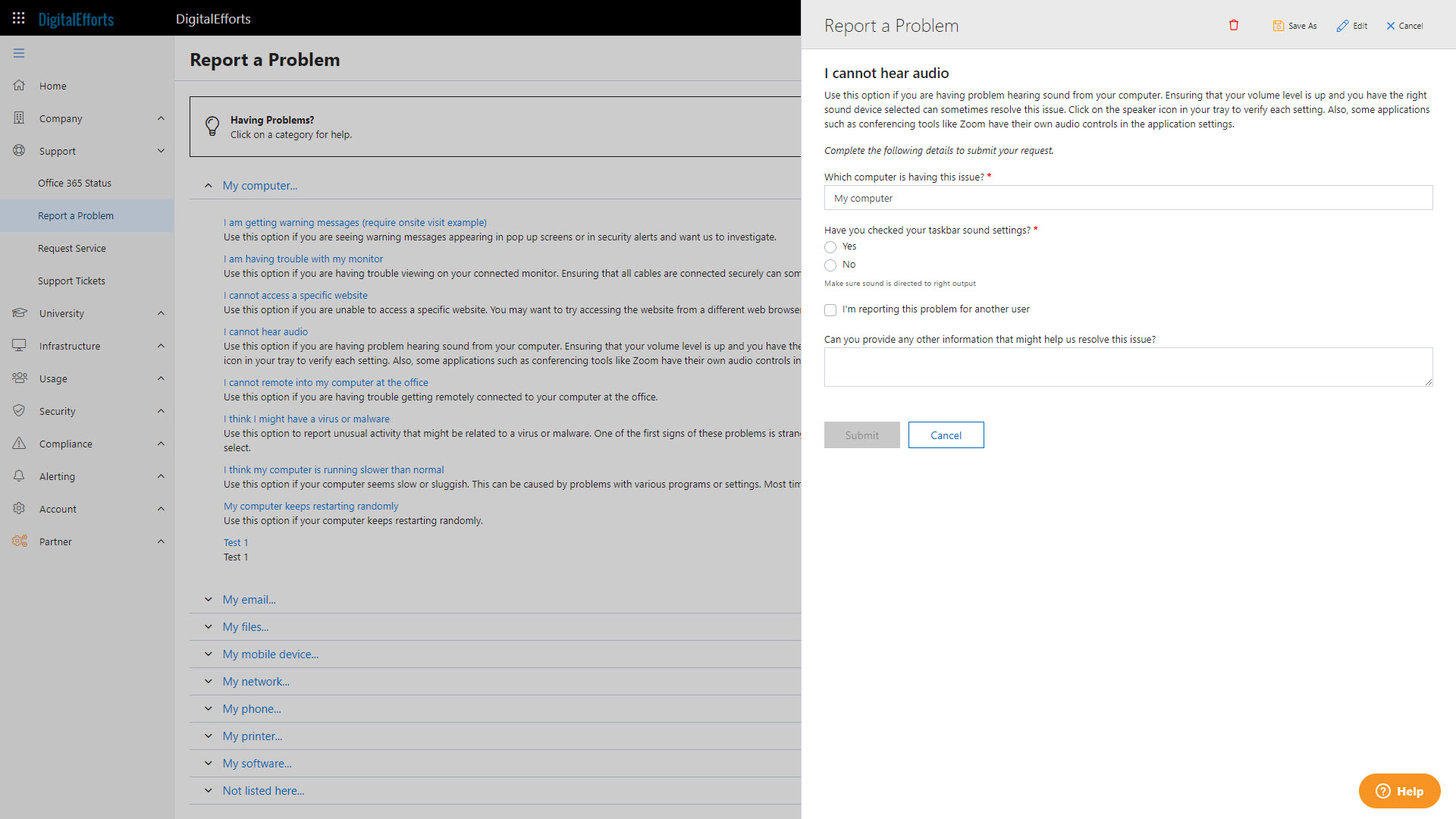 Dynamic Forms
Dynamic Forms handle "if-then" situations to funnel the client down the proper path for resolution or information gathering.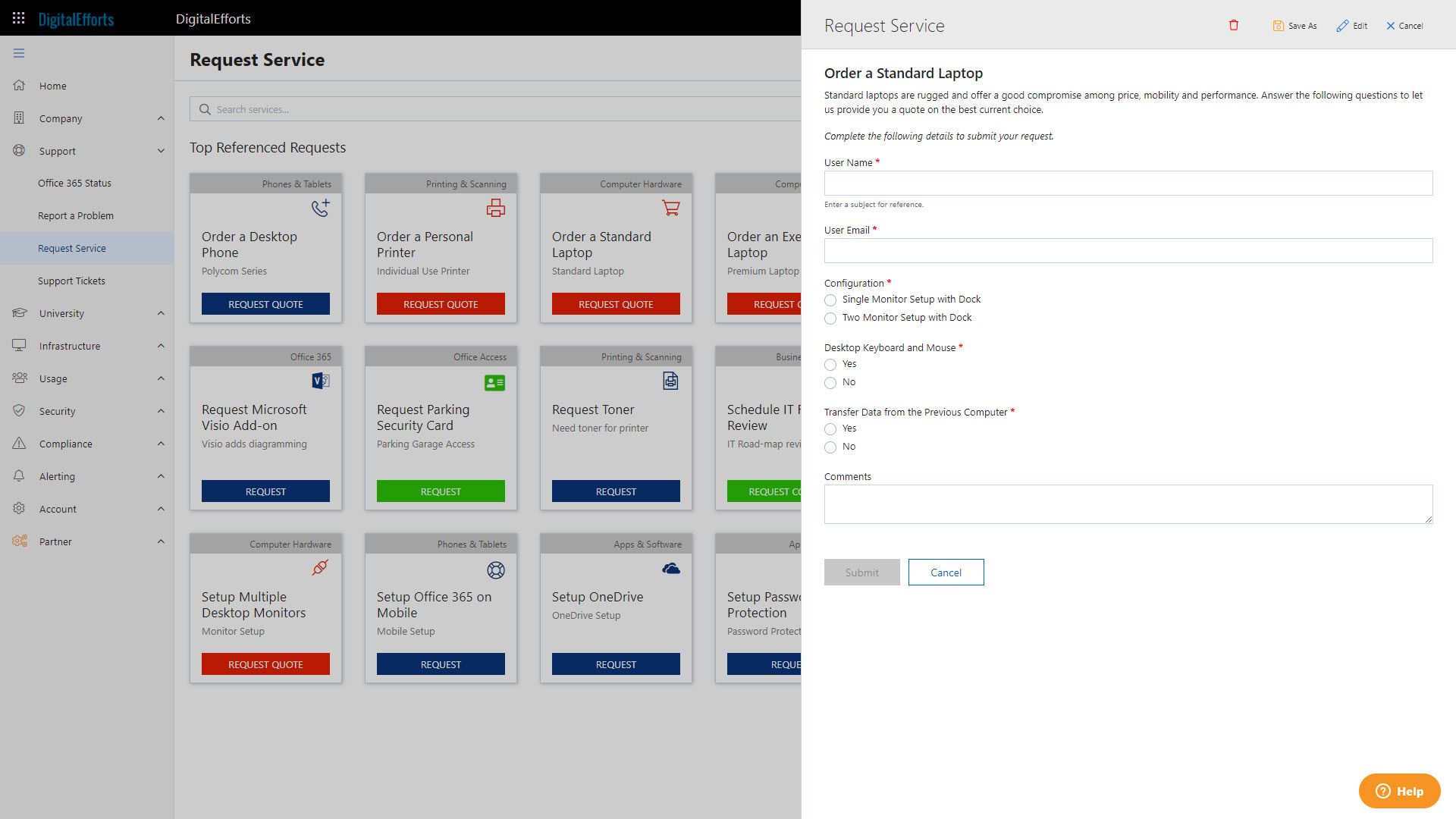 Routing
Get pre-approvals easily by routing to specific emails. Send tickets to specified areas in the PSA (with board, type, subtype, and more pre-specified in the ticket settings). Webhooks for Teams, Slack, Flow, and JSON for additional routing.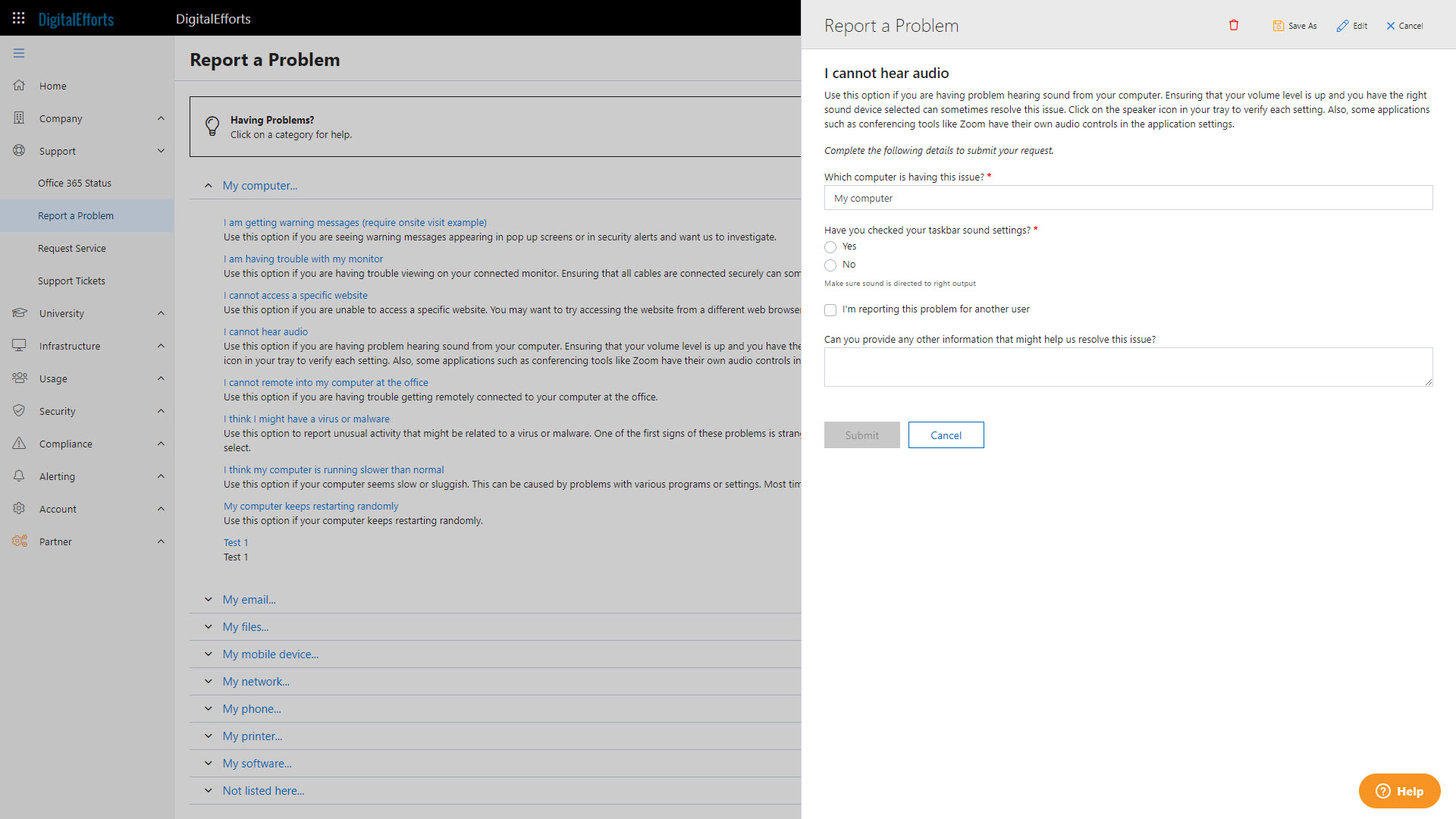 Built-In CSAT
Utilize CloudRadial's built-in CSAT capabilities or integrate popular 3rd party CSAT tools. Track CSAT through emails or even during ticket reviews. Then provide self-service CSAT reporting for clients.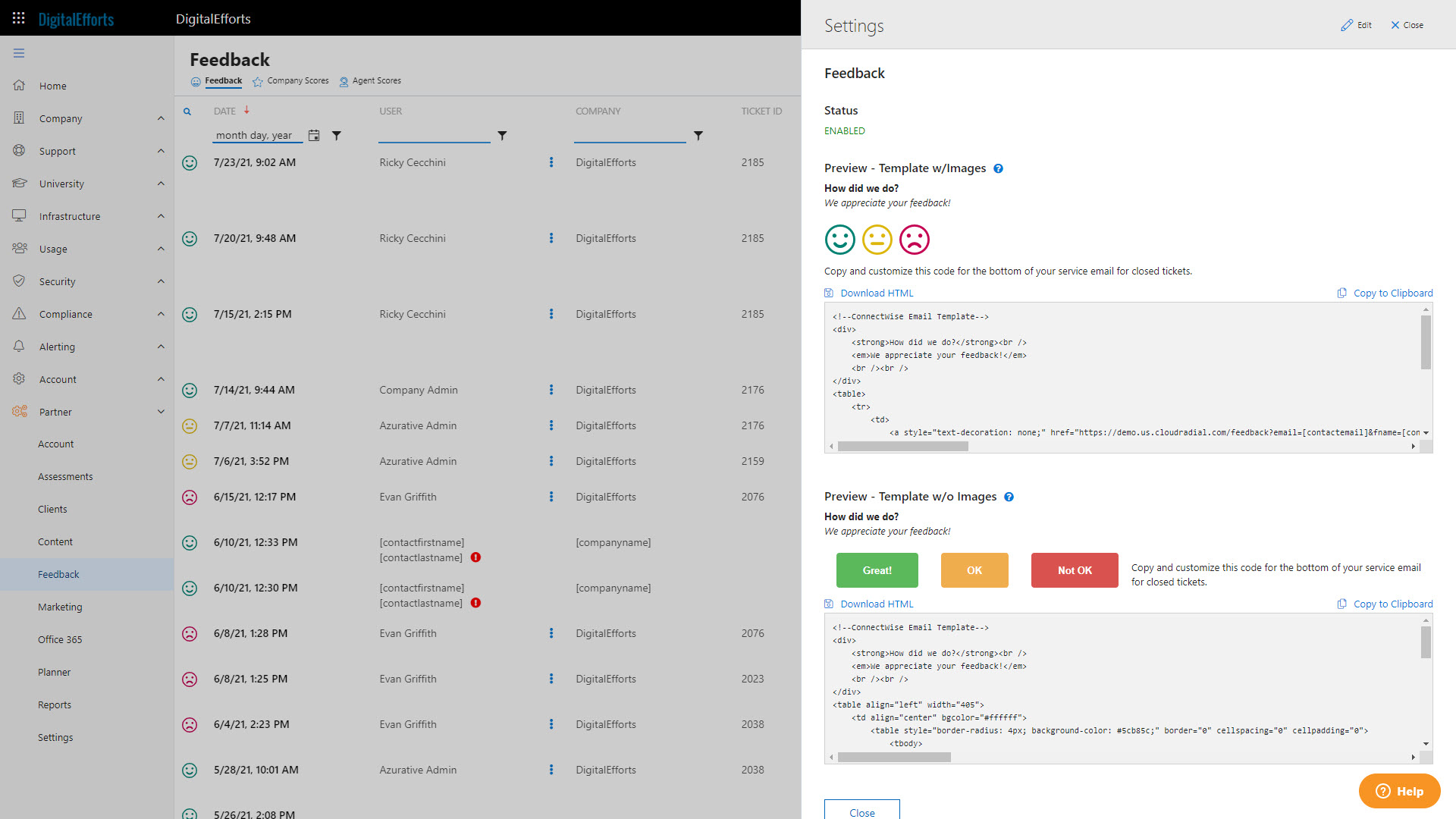 Signature Fields
Ask users to confirm terms of service and ask for a signature to handle simple quotes easily.
Support PINs
Automatically prompt users to create a support PIN to verify users when they call for support. Updates PSA custom fields ease of access.
Create shareable question templates to reuse common questions across clients or catalog items.
Tokens
Use custom client tokens as variables so you can prefill answers or trigger specific actions easily across catalog items to make content management simple no matter how many clients you manage.
365-PSA Sync
Keep authorized users up-to-date by regular syncs with 365 and your PSA to automatically add new PSA contacts and inactivate previous ones.
Preset ticket status, type, subtype, and priority for faster triage, attach PSA checklists/tasks, or add custom scripts to tickets to ensure tickets follow best practices.
Learn more about CloudRadial
Service Desk is just one part of CloudRadial's integrated MSP and IT service platform to help you put the "customer" in "customer service." Learn how our other features work together to deliver a complete path to success for your business.