Land, Onboard, Manage, Grow
Your clients with CloudRadial
When it comes to client experience and engagement,

it's time to think and act differently
While MSP service operations seem to change drastically every few years, the client interaction aspect of the business hasn't really changed much since the break-fix era.
The focus on maintaining progressively more complex IT environments makes it basically impossible for MSPs to build trust and demonstrate value to prospects and clients in a scalable way.
That's where CloudRadial changes everything.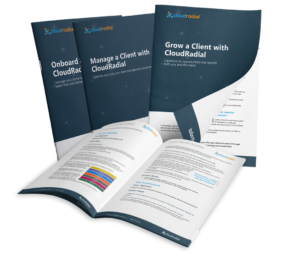 Grab our guides and become the latest, greatest version of your MSP
Every MSP wants to grow revenues, but having the right tools to get the job done is important.
With powerful automation, self-service features, integrations, and a white-labeled client portal, you can finally achieve digital transformation and upgrade to the next version of your business.
With CloudRadial, you can prove to your clients all the things you do for them, on demand, every single day.
The digital transformation of your client experience doesn't happen overnight. But that doesn't mean you have to figure it out all by yourself, either.
We've broken up the MSP client's lifecycle into four unique phases, each accompanied by its own unique strategy and guide. At every phase, we'll show you exactly how to use CloudRadial to help you modernize your client experience and automate client management.