CloudRadial Resources
Improving Transparency of Work at Your MSP With CloudRadial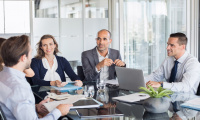 Before the existence of an integrated account management (IAM) platform, many MSPs had to rely on a mixture of tool reporting and uncoordinated account manager strategies to get their value across – in essence, relying on break-fix account management.
While meetings with clients should consist of business-level discussions as vCIO partners, many times limiting tools and lack of processes leave the MSP to discuss technicalities that neither interest nor help the client understand what services they're receiving, and what ultimate goal they're working towards.
Download "Improving Transparency of Work With CloudRadial" to learn how to:
Improve client visibility with a portal
Make standardized and legible reporting
Increase collaboration with your clients
Develop evidence-based selling strategies
Use compliance policies for more insights
Use account planner tools to drive more revenue and better client retention.